Digital printing was not a usual term many years ago and was referred to as color copying by a common person, but it is something far beyond this. Digital printing is an innovation in the printing technology that offers speed and quality to the printing job. Tap into the market and you'll find how this high-value technique is being used in diverse applications. Massive growth opportunities are available in digital printing applications from small to big sectors. Digital printing is almost necessary part of the industry involved in purchase and distribution of print products. The applications of digital printing include desktop publishing, variable data printing, fine art, print on demand, advertising, photo printing, architectural designs, and many more.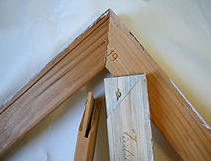 Frame for digital printing
It is more or less like a traditional printing and make use of tools such as canvas and frame in the same way. Stretcher bars are traditionally wooden frameworks that are used to construct a wooden stretcher to mount canvases for printing and are called canvas stretcher bars that are generally made from pinewood. These are available in different size and designs for home and commercial applications. UK stretcher bars are prominent for their quality and make use of high-quality Canadian pinewood to construct wooden stretcher bars. Strainers bar is sometimes used, but this is not like a stretcher bar. Frames from strainer bars are constructed by fixing them with wood glue, nails and staples and are additionally strengthened with corner and cross braces. The construction of canvas stretcher frame is a key aspect in digital printing that impact the quality of printing and display.
Buying a right stretcher bar
A stretcher bar is a simple frame that can be prepared easily, but certain aspects need to considered in choosing right bars. Size is the foremost vital factor in selecting the bars and material is also least important. But you must ensure the comfort level that can provide best stretching for the canvas.